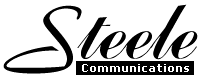 This page is no longer maintained. We are constantly working on new projects and have no time to attend to our own website.
Note: The "Steele.com" domain is not for sale and will not be for sale in the foreseeable future.
Please do not waste your time or mine contacting me about buying it.
---
[ What's New | Web Hosting | Consulting | Commerce | Contact ]
[ International | Business | Associations | Georgia | Steel | Art | Other ]
---
Steele Communications Home Page