EMILIA: CASHEW ENTREPRENEUR
Emilia's empire isn't imposing. You'll find it by following a footpath in Quinhamel, a town near the capital city of Bissau. You might walk right past the small white-washed building with three rooms, no electricity, and a tin roof, next to a metal storage shed. But these two structures are the center of a home-based cashew processing business which supports 18 people: Emilia, her children, her mother and sister, and 12 employees.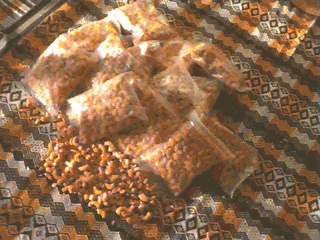 Emilia's initial story is, in many ways, like that of other Guinean women. Separated from her husband, Emilia struggled to feed her family on a government teacher's salary of $20 a month that was seven months behind. She had no prospects for moving above the meager subsistence she endured with her family.
But then her luck changed. When TIPS opened the Quinhamel Training Center in 1994, Emilia signed up for training in home-based cashew processing. Her initiative and performance there won her the chance to participate in a short micro-enterprise business training course in Italy. Upon return, she launched her own business with two processing machines. By early 1997, she had four machines and was employing 12 people while providing for her family.
Emilia's entrepreneurial spirit and some well-designed assistance from TIPS have turned her from an underpaid subsistence teacher to the first woman exporter in her tabanca (village). She is now teaching other women the techniques she has learned, and plans to expand both her production capacity and the number of products she offers.
Procajú offers cashews processed by women such as Emilia and others who are now supporting their families through their efforts as independent processors.