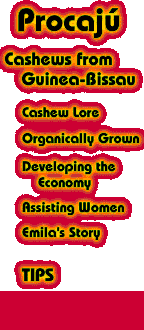 QUINHAMEL TRAINING CENTER
[insert photo of Center]
Procajú was formed as a result of TIPS' assistance to local associations in establishing a training center and program for home-based cashew processing.
The Center is located in Quinhamel, a small town near the capital city of Bissau.[insert map graphic] Working together since 1994, TIPS and the associations have trained more than 400 people, including xxx women, in processing techniques and business skills. Graduates of the center can purchase necessary equipment with financing from the Center to start their own cashew processing business. This effort has already inspired the creation of similar centers elsewhere in Guinea-Bissau, and has brought numerous foreign buyers to the Center to investigate export possibilities of cashews processed by graduates.
In line with the goals of TIPS, the Quinhamel Center is creating broad-based, sustainable, economic growth. Local processing permits the processors to capture as much as four times more value from the unprocessed nut. Traditionally, Guinea-Bissau has exported nearly all of its raw cashew nuts to Asia for processing. Thanks to the Center, a local processing industry is growing, permitting poor Guineans to obtain higher income from their cashew harvests. Local production has already begun to saturate the local demand, and for the first time in history, Guinea-Bissau has begun to export processed cashews.